Donald Trump wraps up 'thank you' tour in Alabama
Comments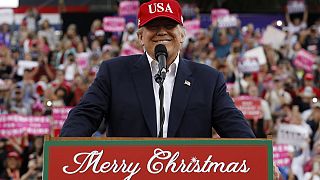 Donald Trump has wrapped up a 'thank you' tour in the place where he kicked off his presidential campaign. The US president-elect told a crowd in Alabama he would continue holding rallies after his inauguration on January 20th.
In another unexpected move, he opted for understanding, rather than criticising, the current First Lady for comments made in a recent interview.
"Michelle Obama said yesterday that there's no hope," he said. "But I assume she was talking about the past not the future cause I'm telling you, we have tremendous hope and we have tremendous promise and tremendous potential. We are going to be so successful as a country again. We are going to be amazing."
"And I actually think she made that statement not meaning it the way it came out. I really do," he added.
He has consistently promised to break the political mould and his unconventional style has been evident in his nominees for some of Washington's top posts.
His cabinet choices tend to have big business, rather than politics-based backgrounds.