Seven candidates selected to run for French left presidential bid
Comments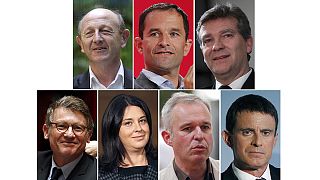 January's French primaries for the left wing will see seven candidates battle it out to win the nomination for the 2017 presidential election.
The ruling Socialists have organised the January primaries. Four of its party members have made it on to the official list, in addition to two ecologists and a representative of the Radical Left Party.
Manuel Valls, the Prime Minister until earlier this month, is seen as the leading contender to win his party's nomination.
He'll be challenged, among others, by Arnaud Montebourg and Benoît Hamont, who each resigned from President François Hollande's government over what they claimed was a too liberal economic policy.
Hollande, who polls as the most unpopular leader in France since the Second World War, announced in December that he wouldn't stand for re-election.
Emmanuel Macron, a former economy minister under the current president, will not take part in the primaries but will instead make an independent bid.
Any French citizen who is willing to pay one euro and sign a declaration that they agree with the values of the left wing is able to take part in the vote for the left-wing candidate.