EU Council President Donald Tusk wades in to Polish 'press freedom' row
Comments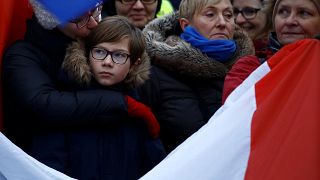 European Council President Donald Tusk has called for the Polish government to 'respect people and the constitution' as protests take place in Warsaw.
Poland's former prime minister said a democracy where media access is limited can become a dictatorship.
The leader of the now-dissolved United Left coalition appeared to agree.
"I am here because I want Poland to be free and democratic; free of usurpation, free of dictatorship. I will not give back democracy, we will not give back democracy, our democracy," said Barbara Nowacka.
Demonstrators have gathered outside the Polish parliament, to protest against the populist, right-wing PIS government's plans to restrict journalists' access to the building.
Inside, on Friday (December 16), opposition MPs blocked the plenary chamber.
Interior Minister Mariusz Blaszczak condemned the move.
"The attitude of the opposition members was reprehensible. It was an attempt at anarchy, it was an attempt to seize power, it was an attempt to block the adoption of the state budget, it also was an attempt to block the adoption of the law to limit the pensions of the officers of former communist security services."
The opposition has called for days of anti-government protests and has pledged to continue blocking the main hall of parliament.
It has been accused by the PIS of trying to seize power illegally and of violating the constitution.