Greece snubs its international lenders to give low-income pensioners a one-off Christmas bonus
Comments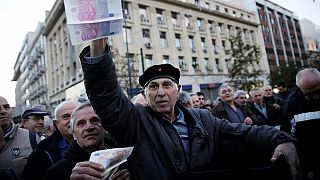 Greece has snubbed its international lenders and legislated plans to give low-income pensioners a pre-Christmas payoff.
On Wednesday, lenders announced that they were suspending a deal clinched earlier this month to offer Greece short-term debt relief after Prime Minister Alexis Tsipras unexpectedly said he would grant a bonus to pensioners earning below €800, a gesture deemed insignificant by many.
"I'm 72 years old," said this pensioner. "I worked for 40 years and look what they gave me in return… bits of paper."
According to reports, approximately 5,000 people took to the streets to protest against years of cuts to their pensions under the country's bailout commitments
"They are making fun of us," announced this protester. "They say we will get an allowance but there is no guarantee. And even if they give it to us, they will take it back next year. Do you really think that they take us seriously?"
The latest debt-relief deal with Greece was agreed on 5 December and is aimed at reducing the interest burden on the country's debts of more than €300bn.