Italy's new prime minister wins confidence vote staving off political turmoil
Comments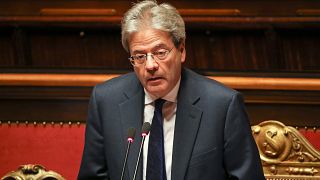 Italy's caretaker prime minister Paolo Gentiloni has won the backing of the Senate in a confidence vote allowing his government to take office, turning the political turmoil down from boil to simmer.
The ex-foreign minister has promised to push ahead with former leader Matteo Renzi's reform drive, but one of his major tasks is the passing of a new electoral law. It must be agreed upon before national elections can be held. In a speech, Gentiloni said he would seek cross-party consensus on the law.
However, many senators from the opposing parties left the chamber before he spoke in protest over the cabinet line-up being a virtual carbon copy of the previous administration.
Matteo Renzi stepped down after a crushing defeat of his reforms in a constitutional referendum, and many of his ministers have posts in the new government. Analysts say that Gentiloni was chosen as a trusted figure to keep Renzi's seat warm ahead of fresh elections, which could come early next year.