Fighting resumes as Aleppo agony goes on
Comments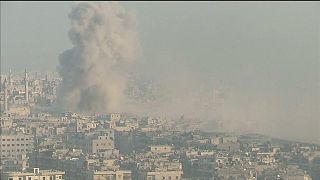 Air strikes, shelling and gunfire raged in Aleppo on Wednesday, despite a truce deal between government forces and rebels.
Syrian state TV said rebel shelling of a district, recently recaptured by the army, had killed several people.
The UK-based Syrian Observatory for Human Rights reported air strikes.
As buses supposed to be taking civilians and opposition fighters to safety were sent back to their depots, there were conflicting reports over who broke the newly-declared ceasefire.
It was brokered, along with the evacuation, by Turkey and the Syrian regime's main ally Russia after a mass exodus from Aleppo had already begun.
This followed a rout of the rebels in the final pockets of territory they held in the east of the city.
#SavetheChildren is deeply concerned for the fate of children, aid workers & their families trapped in East #Aleppohttps://t.co/RVLZu0Vh57pic.twitter.com/AWBasqkwB6

— Save the Children (@save_children) 13 décembre 2016
The UN and others have voiced deep concern at reports of atrocities committed by militias loyal to President Assad.
The evacuation plan was the culmination of two weeks of rapid advances by the Syrian army and its allies that drove insurgents back into an ever-smaller pocket of the city.
By taking full control of Aleppo, Assad has proved the power of his military coalition, aided by Russia's air force and an array of Shi'ite militias from across the region.
with Reuters