Brazil football season ends with tribute to Chapecoense
Comments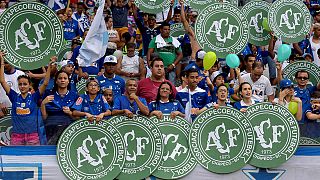 The last day of the football league season in Brazil and Chapecoense's stadium remained empty.
But across the country teams and fans came together to pay tribute to the small club which lost most of its players and officials in a plane crash in Colombia last month.
Each in their own way commemorated their fallen colleagues – a minutes silence, the names of the victims printed on shirts, even bank details put on display where people can make donations.
The message "Somos chape" was held aloft on placards and flags. It evoked the "Je suis Charlie" slogan in a show of solidarity with all 71 people who died in the crash as well as the six survivors.
The new season starts in late January with Chapecoense somehow hoping to rebuild and move on from the tragedy.