Aleppo '95 percent under Syrian government control'
Comments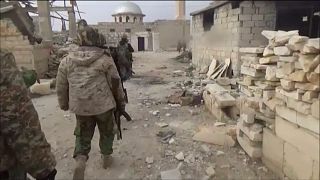 Syrian government forces now control more than 95 percent of Aleppo, the Russian Defence Ministry was quoted as saying on Monday.
It follows sweeping advances in what was the rebel-held east of the city, with reports that opposition fighters have been subjected to the heaviest bombardment in days.
The districts of Sheikh Saeed and Karam al-Daadaa are now said to be under full army control, with a Syrian military source describing what he called "a big collapse in terrorist morale".
Russia says some 100,000 civilians have now fled eastern Aleppo and more than 2,200 rebels have surrendered since the start of the battle to retake the city.
1yr old Baby Rukaia her family of 7 escaped fighting in E/#Aleppo 1week ago Rukkaia &5K children received winter clothes provided by @UNICEFpic.twitter.com/19wiJfeZpH

— Hanaa Singer (@SingerHanaa) 10 décembre 2016
"I lost my wife & left my house, Now I'm here in this shelter with nothing left" says Abu Mohamad an old man who had received basic needs pic.twitter.com/20cxltN0JX

— SARC | Aleppo (@SARC_Aleppo) 11 décembre 2016
Rebel groups in Aleppo received a US-Russian proposal on Sunday for a withdrawal of fighters and civilians from the city's opposition areas, but Moscow said no agreement had been reached yet in talks in Geneva to resolve the crisis.
Recapturing all of Aleppo, helped by Russia and other allies, would be President Bashar al-Assad's greatest prize so far after nearly six years of civil war.
But swathes of Syria remain in rebel hands and on Sunday ISIL jihadists stormed back into Palmyra, having been forced out of the ancient desert city by the army in March.