Istanbul stadium attack: Offshoot of Kurdish PKK claims responsibility
Comments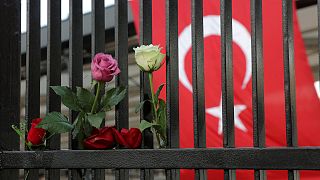 An offshoot of the Kurdish militant group the PKK has said it was behind Saturday's twin bomb attack outside a football stadium in Istanbul.
At least 38 people were killed and more than 150 wounded.
Earlier on Sunday the first funerals were held for victims as Turkey declared a national day of mourning.
The country's interior minister has vowed vengeance for the strikes.
In a statement on its website, the Kurdistan Freedom Hawks said it orchestrated the attack.
The explosions, triggered by a car and suicide bomb less than one minute apart, struck outside Beşiktaş' stadium, around two hours after Saturday's match with Bursaspor.
The twin attack appeared to target police – 30 of the dead were officers.
The explosions are just the latest in a series of deadly bombings in Turkey this year which have been carried out by either the Kurdish militants, such as the PKK, or so called Islamic State.
In addition to battling a Kurdish insurgency in the south-east of the country, Turkey is also part of a US-led coalition fighting ISIL in Syria.