US top doctor warns of e-cigarette generation
Comments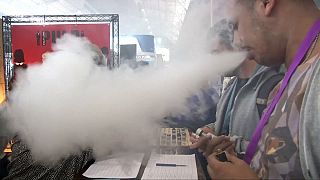 America's top doctor is calling for action to curb the use of e-cigarettes among young people.
Surgeon general Vivek Murthy says they have overtaken cigarettes in six years and put a new generation at risk of getting addicted to nicotine.
"This represents a staggering development in a relatively short period of time. And it also threatens 50 years of hard fought progress that we have made curbing tobacco use," he commented.
It is likely to anger those who argue e-cigarettes are considerably less dangerous.
Addicting kids to nicotine is a major public health concern. Know the risks: https://t.co/liatJnveEq#NoEcigs4kidspic.twitter.com/PeKecfLSod

— U.S. Surgeon General (@Surgeon_General) 8 December 2016
E-cigarettes are considered tobacco products because most contain nicotine, which comes from tobacco. https://t.co/liatJndDMS#NoEcigs4Kidspic.twitter.com/OsWwaSDffN

— U.S. Surgeon General (@Surgeon_General) 8 December 2016
The report recommends that e-cigarettes be incorporated into existing smoke-free policies, including preventing young people from accessing them, implementing price and tax policies that discourage use and encouraging federal regulation of e-cigarette marketing.
Experts reaction to Surgeon General's e-cigarette report overwhelmingly negative https://t.co/5tA0f7KLDp

— Watchdog.org (@Watchdogorg) 8 December 2016