Cairo bombing: Hasm movement claims responsibility for attack that killed six policemen
Comments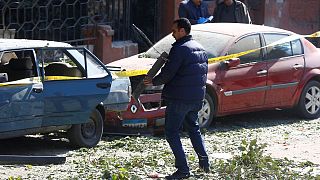 Six policemen have been killed and three wounded after a roadside bomb exploded near a security checkpoint in Cairo.
The attack close to a government building was claimed by the Hasm movement, an emerging terrorist group.
Egypt's state-run news agency MENA said the blast occured near a mosque on the Pyramids road, the main route leading from the city centre to the Giza pyramids.
It is the latest in a string of shootings and bombings targeting security services in the country in recent months. The Hasm movement claimed several attacks, including the assassination of the police officer and attempted murder of a senior prosecutor.