Terror threat sparks tightened security on Los Angeles metro system
Comments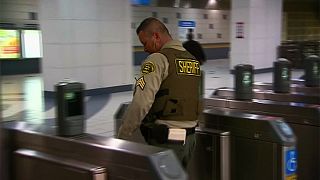 Security has been stepped up in Los Angeles amid reports of an imminent threat to the city's metro system – notably a station near the Universal Studios theme park.
The FBI was contacted by authorities outside the United States, who had received an anonymous telephone call from a man alerting them to an attack to be carried out on Tuesday. The caller, speaking English, did not threaten to carry out the attack but said he was alerting law enforcement.
Officials have not identified the country from which the tip-off came.
"As you know, during the holidays we tend to get an increased threat posture," a news conference was told by Deirdre Fike, the FBI's Assistant Director in charge of the Los Angeles Field Office.
"And so this threat because of the specificity and the imminence of the threat, we felt that it was important that we provide this information to the public."
Warning about plot to blow up Universal City station prompts heightened security across L.A. https://t.co/ugW1ZcJ5v4pic.twitter.com/qQ9cVTFiTP

— Los Angeles Times (@latimes) 6 décembre 2016
Still checking the credibility of the threat, authorities are taking no chances, especially on the city's Red Line which runs between downtown Los Angeles and northern neighbourhoods, including Hollywood. It carries some 145,000 passengers a day as part of the city's larger transit system.
Mayor Eric Garcetti said he would board the train at the Universal City station himself on Tuesday as a show of confidence.
"Everybody should go about their normal day tomorrow," Garcetti said on Monday.
"People may see heightened security … But don't let those (additional officers) frighten you."
Working w/ @FBILosAngeles@LAPDHQ@LASDHQ to address reported threat to Metro Red line. Watch full press conference→ https://t.co/M8m4cNFG1tpic.twitter.com/2NOtt5AsVa

— Mayor of Los Angeles (@MayorOfLA) 6 décembre 2016