Russian Destroyer in sights of UK Navy
Comments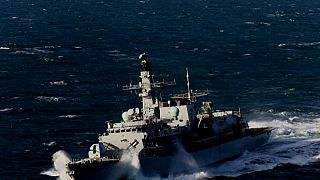 The Royal Navy is again tracking a Russian vessel through British waters.
The Vice Admiral Kulakov, a Destroyer (not to be mistaken for the Admiral Kuznetsov), is returning to her Russian base after a mission in the Mediterranean.
The HMS Sutherland, a frigate, is keeping a watchful eye as the Kulakov traverses the English Channel.
She has been patrolling British waters from her base in Plymouth, on the south coast of England since the summer.
Commader Trish Kohn of HMS Sutherland said the movement of Russian ships through UK waters is "not unusual, but the Royal Navy is ready at all times to protect UK territorial waters".
Despite this, the movement of Russian ships through European waters has been making headlines of late, as Russian ships move to the Mediterranean in what is reportedly the biggest Russian naval deployment since the Cold War, to support Russian military action in Syria.
HMS Sutherland monitoring the Russian ship, the Vice Admiral Kulakov, as she transits through UK territorial waters https://t.co/ukJY7xXE9dpic.twitter.com/q1Bi5jkKWf

— Royal Navy (@RoyalNavy) December 5, 2016
(Photo credit: Royal Navy)