New Zealand: Outgoing PM John Key denies wife gave him ultimatum to resign
Comments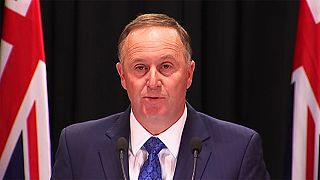 Quitting while he is ahead, popular Prime Minister John Key stunned New Zealand on Monday by unexpectedly announcing that he is stepping down.
While Key cited family reasons for his resignation, effective from next Monday, he has denied media reports that his wife had given him an ultimatum after more than eight years in power.
"Throughout these years, I have given everything I could to this job, the job that I cherish and the country that I love. All of this has come at quite some sacrifice for the people who are dearest to me, my family," Key said at his weekly press conference in Wellington.
"This has been the hardest decision I have ever made and I don't know what I will do next. But for me this feels the right time to go. It gives the cabinet and caucus plenty of time to settle in with a new leader before heading into the next election."
John Key says it's time to "take a step back in my career and spend more time at home" https://t.co/rXDzz61lle

— nzherald (@nzherald) 5 décembre 2016
Key said he had no immediate future plans, but told reporters he would stay in parliament long enough to avoid a by-election for his seat.
A former foreign exchange dealer who worked at firms including Merrill Lynch, Key won office for the National Party in 2008, ending the nine-year rule of Labour's Helen Clark.
He won praise for his management of two devastating earthquakes around Christchurch and his stewardship of the economy in the aftermath of the global financial crisis.
He has endorsed Deputy Prime Minister and Finance Minister Bill English to take over the nation's top job.
Key's centre-right National Party caucus will meet on December 12 to make its choice.
In the meantime, there have been warm words for Key on news of his resignation, including from his Australian counterpart, Prime Minister Malcolm Turnbull.
John Key has been an extraordinary & inspiring world leader, role model and great friend. His resignation is a great loss for NZ & the world

— Malcolm Turnbull (@TurnbullMalcolm) 5 décembre 2016
with Reuters