Madrid protests austerity despite minimum wage increase
Comments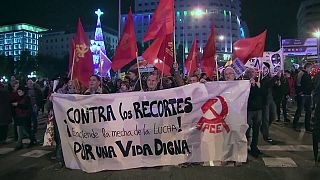 Protests in Madrid against austerity measures in Spain highlighted the public's anger at their government's attempts to balance the books.
With orders from Brussels to resolve the country's economic crisis, Mariano Rajoy's government imposed public spending cuts for close to seven years, and with the Spanish recession still ongoing, citizens are becoming increasingly irate.
Inagi Lopez, an 18-year-old protester, lamented the lack of "certainty" for young people, saying: "We have a duty to protest, because this country is turning into something worthless."
"We have to demand our rights, and to have something that guarantees our dignity in the future,'' he continued.
Despite the government's approval of an eight percent increase in minimum wage, after seven years of austerity, much of the Spanish public are still discontent.
Finance Minister Cristobal Montoro said the rise from €764.4 to €825.5 per month – approved at a weekly cabinet meeting – was "negotiated with other political groups".