Judo: Tokyo Grand Slam wraps up 2016 season in style
Comments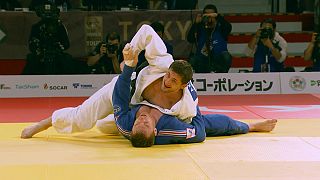 Serbian judoka Aleksandar Kukolj celebrated his second consecutive Grand Slam victory after winning the men's -90 kilo title on the third and final day in Tokyo – the last event of the 2016 season.
Like in the final of the Abu Dhabi Grand Slam, Kukolj came up against Axel Clerget of France in the showpiece match in Japan.
The rematch had the same outcome with Kukolj scoring a waza-ari with a yoko-otoshi and then sealed the victory in style by ippon with 49 seconds remaining.
After his latest triumph Kukolj said: "Two gold medals, two in a little more than one month. When I won the Abu Dhabi Grand Slam, I was the first seed. It was expected, (although) I had some tough fights especially in the final. Now I was also first seed, but in Tokyo you never know. I had four Japanese fighters, I fought with a few Japanese fighters before and I never beat a single one of them. Today I took (beat) two Japanese guys, so it was tough and it was a good day."
The French contingent was denied another gold on the final day when Russia's Kirill Denisov beat Olympic bronze medallist Cyrille Maret for the -100 kilo title.
Denisov turned three-time Grand Slam winner Maret for a yuko score which proved to be enough to seal the gold medal.
It was Denisov's second gold from as many outings after also winning the Qingdao Grand Prix a fortnight ago.
Kodokan Cup winner Sarah Asahina defeated fellow Japanese Akira Sone to claim her first Grand Slam gold medal in the +78 kilo category.
Having come close on home tatami in previous years with a silver and bronze, Asahina finally clicked in her own capital although she was pushed all the way to a golden score – or extra time – by her 16-year-old opponent.
Asahina won the shiniest of medals when Sone was penalised for passivity 40 seconds into the decider.
Surprise of the day
The surprise of the day, if not of the event, was the return to action of Russian legend Alexander Mikhaylin.
The three-time world champion has not fought since losing to Teddy Riner in the 2012 London Olympics final.
Although he lost his preliminary round fight against Japan's Kokoro Kageura his appearance four years after hanging up his Judogi thrilled the judo community.
The World Judo Tour returns for an action-packed 2017 in which the standout event is the Budapest World Championship in August. But the first stop of next year's schedule is the Paris Grand Slam, which begins February 11.