Fencing: Foconi begins new Grand Prix season with home win
Comments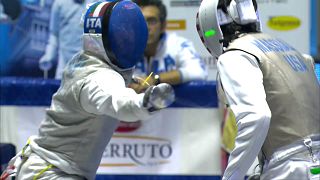 The world's finest fencers have gathered in the Italian city of Turin as the new Grand Prix season got under way in style.
On Sunday the men's foil took centre.
Alessio Foconi turned out to be the hero for the host nation.
After beating Frenchman Enzo Lefort in the semi finals, Foconi came up against world number and pre-tournament favourite Alexander Massialas from the United States in the showpiece match-up.
Foconi had not beaten his American rival in their previous two fights – the last of which was in 2014.
This final began with the pair exhanging points in a closely fought start to the encounter.
But with the score level at 5-5 Foconi started to pull away.
The 27 year old Rome native would only allow his opponent another two points as he secured a fine victory winning through 15-7.