Fidel Castro's ashes laid to rest in Santiago de Cuba
Comments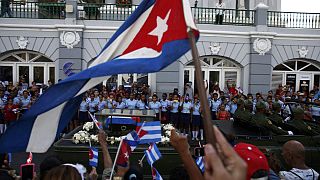 The remains of Cuba's late leader Fidel Castro have been laid to rest in Santiago de Cuba.
During a private ceremony, the ashes of the revolutionary leader were interred in a large round stone in Santa Ifigenia cemetery in the city on Sunday.
That had been placed next to the mausoleum of 19th Century independence hero Jose Marti, another towering figure of Cuban history.
"Fidel's tomb looks like a piece of corn. I feel great about the beautiful thing they've done for him because he deserves all that," one woman said.
"That tomb is a good one and he is next to a great man, Jose Marti. That's something that honours the Cuban people and all friends from around the world who come to visit it," said another man.
Castro's remains arrived in Santiago on Saturday following a four-day 800 kilometre journey from the capital Havana.
His funeral caps nine days of national mourning following his death at 90.
Thousands of people lined the funeral procession, which retraced in reverse Castro's route to seizing power in Havana, to the city where he launched his revolution six decades ago.
In keeping with his wishes, Castro's image will not be immortalized with statues and public places will not be named after him, his brother and successor, Raul Castro said on Saturday.