Fidel Castro's remains laid to rest
Comments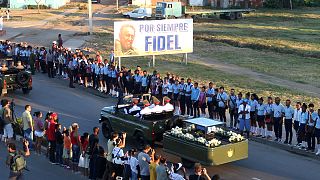 The ashes of Cuban revolutionary leader Fidel Castro have been laid to rest in the birthplace of the revolution, Santiago de Cuba.
After 9 days of national mourning, the 800 km, 4-day, funeral procession arrived in Santiago de Cuba last night.
Tens of thousands of Cubans lined the streets and many world leaders attended last night's ceremony at Plaza de la revolution where Raul Castro vowed to honour the socialist principles that drove Fidel Castro throughout his life,( who died on 25 November aged 90.)
Controversy will follow Castro to the grave. Even the choice of his burial site has been divisive. His ashes have been laid beside the mausoleum of Cuban independence hero Jose Marti. Some see this as fitting while Castro's political opponents have taken offence as they also claim Marti as their own.
The leaders of Venezuela, Nicaragua, Greece and Bolivia were in attendance. As well as Robert Mugabe, King Juan Carlos of Spain and Mexican leader Enrique Pena Nieto. The absence of other world leaders has made them stand out. The Obama administration did not send a representative, nor did the UK government. Russia's Vladimir Putin and China's Xi Jinping were not present either.