Nine dead, dozens missing after fire breaks out at California warehouse party
Comments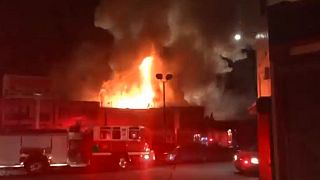 At least nine people have been killed and more than two dozen are still unaccounted for after a massive fire broke out at a warehouse in the city of Oakland in California.
Reports say a rave was being held inside the building when the blaze broke out late on Friday.
Footage from the scene showed the roof of the warehouse, which housed artist studios, engulfed by flames.
Fire officials say they believe around 70 people may have been inside the unofficial concert venue at the time of the incident, though a Facebook event page showed as many as 176 were due to attend.
The cause of the blaze, which has now been brought under control, is still not known.