Hungarian court case: activists rally after Syrian man given 10-year jail term
Comments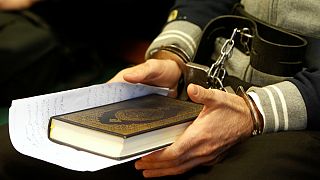 Human rights activists have rallied in Hungary's capital Budapest calling for the release of Syrian man convicted of inciting a migrant riot last year.
Ahmed Hamed was jailed for 10-years after a court found him guilty of terrorism on Wednesday
He was part of a group that crossed illegally into Hungary last year.
"The trouble with this verdict is it proclaims refugees are criminals and now they try to create a precedent. They are not criminals, they are just desperate people fleeing from war," said one protester.
The sentence was the longest by a Hungarian count in connection with the migrant crisis.
Though born in Syria, Hamed holds Cypriot nationality as well as an EU residence permit. He had gone to help relatives navigate the so called Balkans route but was arrested with 10 other people after illegally entering Hungary via Serbia.
The violence saw more than 100 refugees and nearly 20 police officers injured.
From Budapest Euronews correspondent Andrea Hajagos said: the case is far from over, both the defendant's lawyer and the prosecutor have appealed, with one seeking a harsher sentence, the other acquittal.''