North Korea faces fresh sanctions over its atomic ambitions
Comments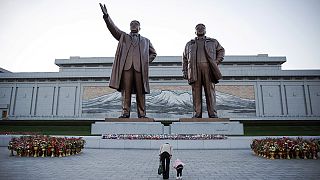 Japan and South Korea have agreed to impose new unilateral sanctions on North Korea over its nuclear and ballistic missile programmes.
It follows the U.N. Security Council's adoption of a new resolution in response to the reclusive country's two atomic tests and multiple missile launches this year.
Japan's Prime Minister Shinzo Abe said that he couldn't continue to tolerate the North's "acts of violence."
"We decided to impose further sanctions to those already in place to comprehensively resolve various issues such as abductees, nuclear, and missiles after coordination with the US and related nations. We will closely monitor how North Korea will respond to the newly adopted UN resolution," said Abe.
A view echoed by South Korea which is to expand its blacklist of senior Pyongyang officials, including the closest aides of leader Kim Jong Un.
Lee Suk-Joon, South Korea's minister for government policy coordination said
said the list will now include "35 entities and 36 individuals that are playing a critical role in developing weapons of mass destruction and contributing to the North Korean regime's efforts to secure foreign currency."
On Wednesday, the U.N. Security Council said its latest resolution imposes unprecedented costs on North Korea but also admitted that no measures would likely succeed in persuading Pyongyang to abandon its pursuit of nuclear weapons.
The new U.S.-drafted U.N.resolution is intended to slash North Korea's exports of coal, its biggest export item, by about 60 percent with an annual sales cap of $400.9 million, or 7.5 million metric tonnes, whichever is lower.
It also bans North Korean copper, nickel, silver and zinc exports – and the sale of statues. Pyongyang is famous for building huge, socialist-style statues which it exports mainly to African countries