Hollande is applauded for not seeking re-election as Valls waits in the wings
Comments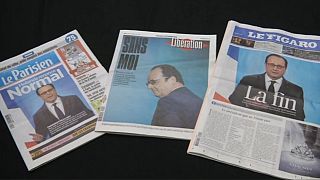 He did the right thing…
That is the feeling of French citizens, it seems, with a snap poll showing eight out of ten support President Francois Hollande's shock announcement on Thursday that he won't be seeking a second mandate in next year's election.
All eyes now are on Prime Minister Manuel Valls. He has not confirmed he will be running but few doubts remain.
Accused of helping push the unpopular president to the exit door, Valls, 54, has described Hollande's decision as "the choice of a statesman".
He says he will defend the government's record and has done so since the Socialists came to power in 2012.
A former interior minister who has been regarded as France's "top cop", Valls broadly represents the centrist economic stance that Hollande adopted two years into his term.
The Socialists face a tough battle over whether they should be more centrist or veer further to the left to try and regain the popularity they have lost since Hollande was elected in 2012.
Manuel Valls has a new mission… saving the French Socialists from electoral collapse https://t.co/7pGpjItbxUpic.twitter.com/0JyKXDeT98

— Bloomberg (@business) 2 décembre 2016
Primaries in January will select the party's candidate. But whoever it is, pollsters predict he or she won't make it through to the decisive second round run-off where the centre-right's candidate Francois Fillon and Marine Le Pen of the far-right National Front are expected to go head to head.