Far-right hopeful Hofer within reach of Austrian presidency on Sunday
Comments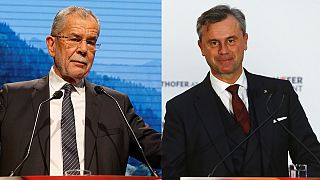 Austria faces a stark choice on Sunday, just as it did in May when left-leaning Alexander Van der Bellen and the far-right's Norbert Hofer last faced off to become the country's president.
Then, Van der Bellen won, but only narrowly, and with the vote later annulled due to counting irregularities, they are doing it all over again.
Wrapping up his campaign in a speech to supporters in Vienna on Friday, the former Green Party leader who is running as an Independent, stressed the extent of what is at stake.
Van der Bellen said the election is "not only about two people. It is also about the direction in which our country will go".
With the race too close to call, his rival, running on an anti-immigration platform, could become the first far-right head of state in a European Union country.
Norbert Hofer is counting on Austrians to make him the first far-right head of state in post-World War II Europe https://t.co/xeRifTyHyL

— The New York Times (@nytimes) 30 novembre 2016
Hofer, of the Freedom Party, has however pulled back from an initial suggestion that Austria could follow Britain's vote to leave the EU by holding a referendum of its own.
"I get asked by a lot of media representatives, 'Will Austria quit the European Union?' No. Austria's duty as a country in the middle of Europe is to develop this union," Hofer told his final campaign rally in the Austrian capital.
The suspense couldn't be greater as Van der Bellen tries to stem the tide of anti-establishment populism sweeping Europe and the United States.
But, given the trend – and talk of a so-called Trump effect – Hofer will be hoping the largely ceremonial presidency is now well within reach.