Van der Bellen and Hofer neck and neck ahead of Austrian run off vote
Comments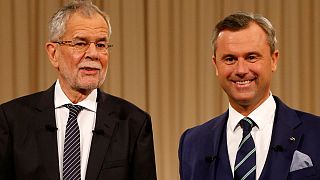 Alexander van der Bellen, an independent candidate, is neck and neck with Norbert Hofer, from the far-right Freedom Party (FPO) ahead of a re-run of Austria's run-off presidential vote.
Former Green Party leader Van der Bellen has accused his opponent of threatening Austria's exit from the European Union.
But Hofer recently said Vienna would only hold a referendum on EU membership if Turkey joins the bloc.
The son of a Russian father and Estonian mother, both who fled to Austria as refugees, Van der Bellen has been critical of Vienna's current asylum and migrant policy.
"We don't know if Donald Trump is going to pursue more isolationistic policies as he has announced," said Van der Bellen. "For us Europeans that can only mean closing ranks, exploring what we have in common, to define it. And to pursue our common interests. More than ever also in this case."
Read more aboutAustria's rise of the right.
Hofer has reiterated that he will not sign any trade deals such as the Transatlantic Trade and Investment Partnership or the Comprehensive Economic and Trade Agreement unless there was a referendum.
"…I stress that I'm going to abide by what I promised which is that the people in Austria are going to decide over TTIP and CETA," said Hofer.
"And the citizens will decide when I have to sign it next year. I will adhere to what the people in Austria want. Because the power emanates from the people."
For the first time in more than fifty years, Austria's highest office will be held neither by a social democrat nor a Christian democrat candidate.
The vote, which had been scheduled for October 2, will now take place on December 4.
Alexander Van der Bellen narrowly won May's original presidential vote, but the country's constitutional court ordered a repeat, after the FPO successfully challenged the result on procedural irregularities.