Cuban tributes stretch across island ahead of Castro's funeral
Comments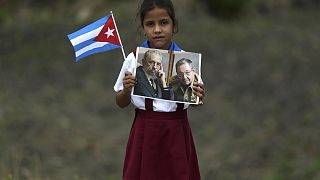 Fidel Castro's ashes have arrived in the eastern Cuban city of Camaguey.
Its the final stop of his funeral cortege's journey across the country ahead of Sunday's ceremony in Santiago de Cuba where he'll be laid to rest.
Tens of thousands turned out for the procession, unflagging in their admiration for one of the towering figures of the 20th Century who is equally loathed by his adversaries.
"Our generation was born up adoring the commander. We were all born adoring Fidel. He's been our idol. Our leader our whole life," said Daysi López. "Thanks to him, we are who we are. We owe him practically our whole life, and every Cuban has a bit of 'the comandante' in him. Every Cuban is Fidel."
Sentiments shared by 18-year-old student Dariagna del Risco: "He is with us, he always was with us in the hardest moments, he was always supporting us, and I think that we are not going to get any one like him again."
The government declared nine days of mourning for the man who built a Communist state and aligned Cuba with the Soviet Union.
The cause of his death has not been made public, but Castro, who died last Friday, had been weak since an intestinal illness forced him to step down in 2006.