Australian students recreate Martin Shkreli price-hike drug
Comments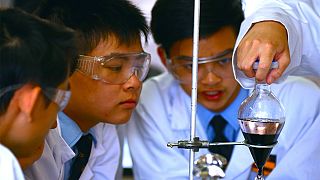 The man who became a global figure of greed after hiking the price of a life-saving drug by 5000 percent in the US, may have just met his match.
Last year, US entrepreneur Martin Shkreli bought Turing Pharmaceuticals and almost immediately increased the price of the medicine Daraprim in the US from $13.50 to $750.
Now a group of school students in Australia has replicated a key-ingredient in the medicine for just $2.
Daraprim is an anti-parasitic drug used to treat malaria and HIV patients.
One of the students taking part in the experiments, Brandon Lee said: "It was a lot of trial and error, the process. We had to repeat a lot of the reactions and try different reaction conditions in order to see which materials in which things would react to make the Daraprim. But, yeah, it was a rollercoaster of emotions sometimes. I think because we are high school students we are able to relate to a larger audience, able to relate to the general public and show that even ordinary high school students like us, are able to make this drug for a pretty low price."
The World Health Organization lists Darprim as an essential medicine. In most countries it retails for around $1.50.
In a bid to show the drug's inflated cost in the US, the school students were guided in their experiments by researchers at Sydney university.
"We are 'Open Source Malaria' and we are trying to find new medicines for this terrible disease that kill around 2,000 people every day, many of them children. So, what we are doing is that we're taking starting points from the big pharmaceutical companies and improving those, to be drug candidates," Associate Professor Matthew Todd said.
The move by Shkreli last year sparked international outrage and was condemned by US presidential candidate Hillary Clinton.
In a series of tweets the so called 'Bad Boy' of big pharma initially mocked the students for their replication of the drug, but was later more gracious, congratulating them in a short YouTube clip.