Russia and Turkey find common ground on Syria
Comments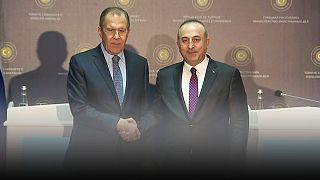 They are on opposing sides of Syria's civil war.
But Russia and Turkey said on Thursday that they agree on a need to halt the fighting and for the provision of aid in Aleppo.
Moscow backs Syria's President Bashar al-Assad while Turkey supports rebels fighting to oust him.
As their foreign minisers met in the southern Turkish resort town of Alanya, their governments' differences as well as shared views were acknowledged.
"Our views on Assad are well-known," Turkish Foreign Minister Mevlüt Çavuşoğlu explained.
"We know that Assad is responsible for the deaths of 600,000 people. We may at times have different views on Assad from Russia – that is natural. But in general, on a ceasefire, on humanitarian aid and a political solution, we are in agreement with Russia."
FM #Cavusoglu: "#Turkey and #Russia agree that a ceasefire is needed to end #Syria tragedy." https://t.co/FbeGrv42L7pic.twitter.com/kTrWGz7Xt6

— Turkey PM Press&Info (@ByegmENG) 1 décembre 2016
Turkey's military suspects an air strike that killed four of its soldiers in northern Syria last month was carried out by the Assad regime.
But Sergei Lavrov defended the Kremlin's ally.
"It is widely understood that Russia has nothing to do with this. Neither did the Syrian Arab Republic or its airforce."
Lavrov said the bloodshed must stop in Syria but he also vowed that Russia would continue its operations in eastern Aleppo and would rescue the city from what he described as terrorists.