Fidel Castro briefly reunited with Che Guevara: the Cuban leader's ashes make the journey to Santiago
Comments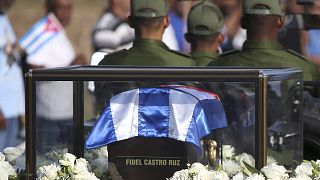 Fidel Castro's funeral cortege has resumed its journey to Santiago de Cuba, where the late Cuban leader will be laid to rest.
There was a brief, but symbolic stopover at the mausoleum in Santa Clara which houses the remains of his one-time revolutionary partner Che Guevara.
Cubans have poured out onto the streets to bid a final farewell to Castro, who passed away a week ago (November 25) at the age of 90.
But, the outpouring of grief on the Caribbean island is in sharp contrast with the hatred expressed by many of the nation's exiles, who viewed Castro as a dictator who jailed opponents and whose socialist policies ruined the economy.