Australia: protesters call for an end to offshore detention of asylum seekers
Comments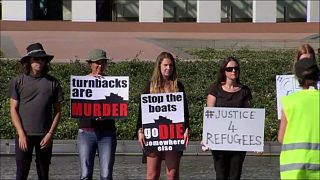 Protesters have rallied outside the Australian parliament for a second consecutive day. They spent two hours standing in blood red water, calling for an end to the offshore detention of asylum seekers and for a controversial boat turnback policy to be scrapped.
They say families are being separated and innocent people killed because of the policies which have the support of both the Liberal/National Coalition and the opposition Labor Party.
The Whistleblowers Activists and Citizens Alliance also brought parliament to a halt for 40 minutes, when six demonstrators glued their hands to a railing in the public gallery. Security guards used hand sanitiser to remove them.