Rwanda accuses French officials of complicity in genocide
Comments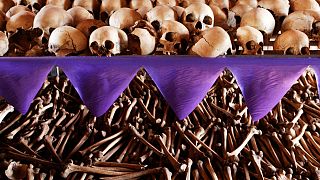 Rwanda has launched an inquiry into 20 French officials it suspects of involvement in the 1994 genocide.
The dispute concerns the role of France as a close ally of the Hutu nationalist government of Juvenal Habyarimana prior to the mass killings.
It was the shooting down of his plane that sparked the bloodbath.
Rwanda's chief prosecutor, Richard Muhumuza, has called for the individuals to be officially questioned. In the past Kigali has accused France of ignoring or missing warning signs and of training those who carried out the killings.
About 800,000 people, mostly Tutsis, died at the hands of Hutu extremists during the Rwandan genocide.
France has admitted making mistakes but strongly denies any claims of complicity.
Rwanda is a former German and Belgium colony which once had strong ties with France.
But in 2006 Kigali temporarily broke diplomatic relations when a French judge called for the trial of Rwanda's President Paul Kagame in connection with the 1994 downing of the presidential plane.
Earlier this year, in October, the probe was re-opened to allow examination of evidence from a former general, now living in exile in South Africa, who has claimed that Rwandan President Paul Kagame was involved.