ISIL claims Ohio campus car and knife rampage
Comments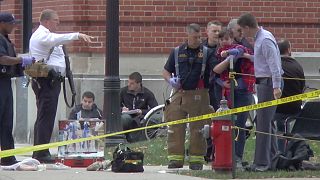 Students at Ohio State University remain shaken by Monday's campus attack (Nov.28) that left 11 people hurt.
Josh Heiferling, from Cleveland, Ohio spoke for many describing how he'd been affected by the incident:
"Keeping your head down more than usual, I'd say. Walking to class faster than usual. Sirens personally I know when I hear the sirens my heart sinks a little bit."
Responsibility for the car and knife rampage has been claimed by ISIL militants who described the assailant as a "soldier".
But there has been no confirmation of any connection between Somali-born Abdul Razak Ali Artan who was himself a student at the university before he was shot dead by police.
The authorities are investigating terrorism as a possible motive suggesting Artan may have been radicalised online by jihadist propaganda.
Members of the Ohio State community joined together in support tonight at St. John Arena. #BuckeyeStrongpic.twitter.com/fVD6MNPPZS

— Ohio State (@OhioState) November 30, 2016