Cuba bids farewell to Castro as ashes are taken to final resting place
Comments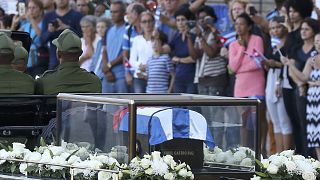 There were solemn scenes in Havana on Wednesday as a box containing the ashes of Fidel Castro – draped in the red, white and blue national flag – was placed on a trailer at the start of the revolutionary leader's last journey across Cuba.
Towed by a military jeep, the casket was driven through the streets of the capital where the people he ruled for half a century before handing over to his brother, turned out en masse to bid a fond, final farewell.
This was the beginning of a 900 kilometre trek eastward over four days that will take the 90-year old's remains to Santiago de Cuba where Sunday's internment will mark the culmination of nine days of mourning.
Cuba returning Castro's ashes to birthplace of the Revolution https://t.co/jECOXCZqAI

— Reuters Top News (@Reuters) 30 novembre 2016
Leaders of major world powers have been noticeable by their absence in Cuba where Castro's cortege is retracing the route – in reverse – taken by his revolutionaries in their victory march to the capital in 1959.