'Almost impossible to have a good relationship' with Hamilton - Rosberg
Comments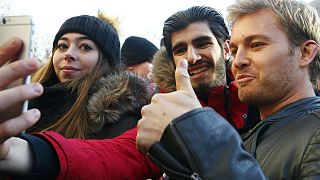 Newly crowned Formula One world champion Nico Rosberg admitted his relationship with Mercedes teammate Lewis Hamilton has been seriously put to the test this season but a mutual respect still remains.
The pair's rivalry started in their go-karting years together as children.
But in recent years their friendship has cooled as both men competed for the sport's top prize.
When asked whether he could be friends again with Hamilton at a q and A session in his home town of Wiesbaden Rosberg replied: "Never say never, but it will always be difficult! We are on the same team and are constantly driving for the same circuit wins and the same title. It is almost impossible to have a good relationship. There is such a big rivalry. It is so intense, so complicated. What does help is that we have this respect, a basic respect. We were best friends when we were 13 years old and something of that is left. I think so anyway. For me it is and I think it is for him too and that does help get us through the difficult phases."
Rosberg lost out in the title race to Hamilton in the previous two years but made it third time lucky when he clinched his maiden championship this season at the final stop of the 2016 calendar in Abu Dhabi.
The pair will renew hostilities on March 26 when Rosberg begins his title defence at the Australian Grand Prix.