Madagascar: reintegration centre gives young people fresh start
Comments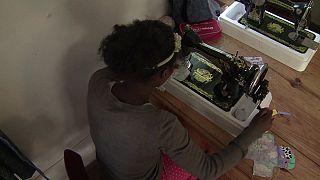 In Ambohidratimo, a town some 15 kilometres from the Madagascan capital, a reintegration centre receives 150 children and teenagers night and day.
They are mostly girls. Abused, raped and abandoned, a judge ruled they should be placed here, where they find shelter, an education and can also receive some training.
Today, a dozen teenagers are learning how to make washable sanitary towels.
The 'Healthy Girls' project is the brainchild of Iriana Andrianalimanana.
"The cost of making a sanitary towel is from around 3,000 ariary (85 euro cents), yet it lasts around a year. A packet of disposable sanitary towels costs around 2,800 ariary (79 euro cents), but women have to buy one every month."
The reusable sanitary towel, with pockets and velcro is an improved version of the "Salaka" folded towels still used by women with low incomes.
During her lifetime, a woman will use approximately 10,000 disposable towels or tampons. Products like this can take 500 years to decompose (break down) causing serious pollution problems.
The Akany Avoko reintegration centre has also put into place other initiatives to help protect the environment, such fruit and vegetable plots and making environmentally friendly coal.