Italy's constitutional referendum: Grillo and Renzi reach the final week of the campaign
Comments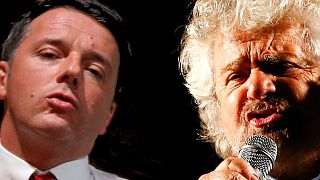 Thousands of 5-Star Movement sympathisers took part in a national demonstration in Rome, against the reform of the Constitution adopted by Matteo Renzi's government. "I say no" was the slogan of the event, which was attended by the founder of the Movement, comedian Beppe Grillo.
Meanwhile, Renzi opened the last week of the election campaign in Genoa, with a rally in favour of "Yes" to the constitutional reform that will be voted by the citizens on December 4.
"In recent years Italy has tried to make reforms but hasn't been successful," said the 41-year-old. "Our former governors think they are back in vogue and are telling us what we can and what we can't do. The Italians will decide."
The reforms are designed to reduce the size and powers of the Senate, which currently carries as much weight as the lower house, and claw back power from Italy's 20 regional governments.
Con il cuore in mano #iodiconopic.twitter.com/jczUjCftv6

— Beppe Grillo (@beppe_grillo) November 26, 2016