Fillon and Juppé talk tough on security before French conservative primary
Comments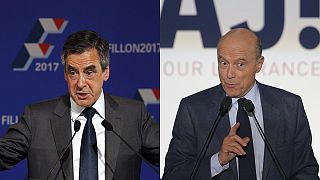 Foreign policy was prominent as the two rival contenders for the conservative ticket in next year's French presidential election held their final campaign rallies ahead of Sunday's primary run-off.
Until recently the dark horse but now the strong favourite, François Fillon highlighted the security threat after several terrorist attacks carried out in the name of Islam – before thousands of supporters in Paris.
"Syria is ravaged by Islamic State which comes and kills our children on the streets of our cities. It's ripped apart by internal fighting and is bruised by the bombing of its civilian population. If we don't create the conditions for a real international coalition, if we refuse to form an alliance with Russia, then Islamist totalitarianism will continue to cast its shadow and spread death."
Alain Juppé reminded his supporters at Nancy in eastern France that Russia was helping President Assad bomb his own people.
He also vowed to help tighten security in Europe.
"Staying together means giving Europe borders that are real, stable and controlled. By stable I mean: stop new (EU) enlargement. Obviously Turkey has no place as a member of the European Union, for a whole series of reasons. And borders must be controlled. Some small progress is being made: we had one agency, Frontex, which was incapable of controlling external borders," Juppé said.
Both former prime ministers favour cuts to public spending, but Juppé has tried to portray himself as more moderate, defending France's welfare state.
Whichever former prime minister wins the conservative nomination is tipped to meet the populist Marine Le Pen of the Front National in the presidential run-off, with the left in disarray. But the election is still many months away.