French conservative rivals Fillon and Juppé clash on Russia in TV debate
Comments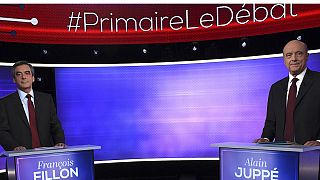 They are both former French prime ministers, both from the same centre-right party – but they both attacked each other in a TV debate ahead of Sunday's run-off vote to decide which one will run for president next year.
It's the first time in a French election that the Russian president has chosen his candidate

French conservative contender
François Fillon was the surprise winner of last weekend's first round in the first "primary" vote held by the "Républicains" party, polling well ahead of the man previously seen as favourite, Alain Juppé.
On foreign policy they clashed on how to deal with Russia. Fillon's repeated calls for France to seek to engage Moscow have brought praise from President Putin.
His rival Alain Juppé seized on that:
"I think it's the first time in a French election campaign that the Russian president has chosen his candidate," he said. "I saw it on the television yesterday and it surprised me somewhat."
Fillon has warned against "provoking" Moscow and wants EU sanctions on Moscow lifted.
"What I'm simply calling for is for us to sit down round the table with the Russians — without asking for agreement from the Americans — and along with them, try and recreate a link, if not of confidence, then at least one which allows us to moor Russia to Europe," he said.
The two rivals also differ to some extent on the economy and social issues – although both propose cuts in public spending and raising the retirement age.
Fillon, prime minister under Nicolas Sarkozy's presidency, proposes more public-sector job cuts – which Juppé deems unrealistic – and a longer working week.
"With this manifesto, within two years we can fix the situation. In five years, we can halve unemployment, that means get closer to full employment like our neighbours, and in ten years we could once again be Europe's number one power," he said.
Juppé made his stake as the less divisive candidate, saying that reform should not be a punishment, it should bring hope.
"France will need a strong president, a president first and foremost who's decided to make reforms, courageous reforms, fast reforms, credible reforms, and reforms without being brutal," he said.
After the debate some analysts thought the rivals had come off even, but at least one survey of potential voters gave Fillon the edge.
The winner in Sunday's vote will have a good chance of making it to the Elysée. The left is in disarray and the centre-right is tipped to go through to the presidential run-off next spring and face the nationalist Marine Le Pen.