Deadly torrential rains cause havoc and destruction in Northern Italy
Comments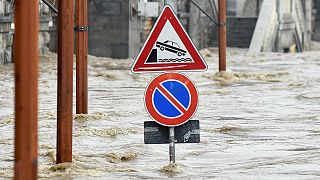 Flooding caused by torrential rain in northern Italy has claimed at least one victim while five people are still missing, according to local authorities.
The regions of Piedmont and Liguria were the hardest hit with homes evacuated and businesses closed on Thursday. The Tanaro River broke its banks in several places, isolating the town of Garessio, where water flooded ground-floor residencies and shops.
Waves of muddy water battered stone and wooden bridges and at least 25 roads were closed.
Liguria's Regional Minister for Civil Protection, Giacomo Giampedrone, described the situation as "critical" and heavy rain in the region of Lombardy is expected to continue into the weekend.
#Italy Impressive floods in the #Piedmont region. River #Tanaro breaks banks in #Garessio. Via TgrPiemonte</a> <a href="https://t.co/HBGtVNXTmg">pic.twitter.com/HBGtVNXTmg</a></p>&mdash; José Miguel Sardo (jmsardo) November 24, 2016