US shoppers put election behind them with retail therapy on Black Friday
Comments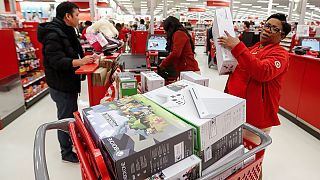 With the US election behind them, Americans headed to the malls for some retail therapy on Black Friday.
Traditionally one of the busiest shopping day of the year begins on the Friday after Thanksgiving, but many stores opened on Thursday to beat online sales.
It is big business, with November and December counting for as much as 40% of annual revenue in the retail industry.
According to the National Retail Federation (NRF), more than 137 million shoppers are expected to head to the tills over the four-day weekend, up from 135 million last year (based on a survey of shopping intentions). Last year sales figures after the Thanksgiving weekend fell by 11 % on 2014, however, the Commerce Department marked that sales were actual up by four per cent by the end of the holiday season.
Their chief economist said, 'increased geopolitical uncertainty, the presidential election outcome and unseasonably warm weather' could impact spending patterns in 2016.
The biggest demographic is those in the 18-34 age bracket. "Millennials continue to drive the trend of hitting the stores – both on their feet and online – as soon as the turkey is finished," Prosper Principal Analyst Pam Goodfellow said.
What began as a US tradition, has spread across the world with Black Friday deals making their way to Europe, Latin America, South Africa and New Zealand in recent years.