Greece: woman and child die in migrant camp fire
Comments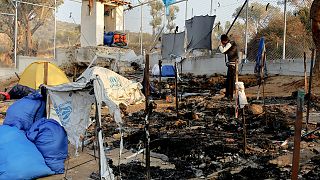 A 66-year-old woman and a six-year-old child have died in a blaze at a refugee camp in Greece.
The fire broke out on Thursday night in a tent on the island of Lesbos. Two people were seriously injured, according to officials.
Police and the fire brigade investigating what happened say initial evidence points to an accident.
According to officials, brief clashes broke out between migrants and police in the wake of the blaze. One camp resident spoke angrily about the conditions there:
"They don't – they never care about all the refugees. They think that we are not human beings, we are something like animals. But we are not animals, we are human beings."
More than 6,000 migrants and refugees are stuck on Lesbos. State facilities are intended to hold just half that amount.