France: suspect still at large after retirement home attack
Comments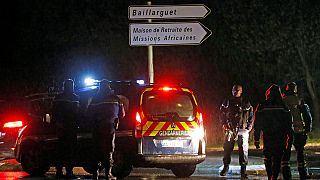 A man hunt is underway for a masked gunman in southwestern France, suspected of killing a woman at a retirement home for Catholic missionaries.
one woman dead, stabbed
60 residents taken to safety
police still actively searching for attacker
no motive established
One employee who managed to escape after being bound and gagged, raised the alarm around 10pm local time (Thursday night). After searching the building police found another employee (aged 54) stabbed to death, according to local media. Around 60 people were taken to safety following the attack.
#montferrier Les services de secours continuent à arriver sur les lieux. pic.twitter.com/rUPRMFr7AH

— Métropolitain (@eMetropolitain) November 24, 2016
The residence Chênes verts ("Green Oaks") in Montferrier-sur-Lez, located 10km north of Montpellier, houses retired missionaries that had worked in Africa. It belongs to the Society of African Missions (SMA), a community of European, African and Asian Catholic missionaries which has around 1,000 members.
The local prosecutor for Montpellier Christophe Barret said there was no clear motive, but nothing indicated a terrorist act at this stage.
In France security has been stepped up at religious sites and other points of interest, following a wave of Islamist attacks over the past year.
A large police operation was still in place on Friday morning to find the suspect.
#Montferrier : l'hélicoptère de la gendarmerie est de nouveau sur zone pic.twitter.com/iXt7GcIwNd

— Midi Libre (@Midilibre) November 25, 2016
(with Reuters, AFP)