Angry Filipinos march against burial with military honours of Ferdinand Campos
Comments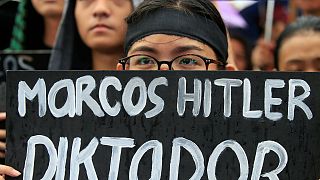 Across the Philippines, thousands of people have protested against the burial with military honours of former president and dictator Ferdinand Marcos, who was laid to rest last week, 27 years after his death.
Marcos, who died in Hawaii in 1989, was eventually controversially buried in Manila's Heroes' Cemetery.
He imposed martial law in 1972, governing by decree in what is considered one of the darkest periods in the nation's history.
Protester and politician, Satur Ocampo, was imprisoned during the period of martial law.
"This comes as a slap in the face of the victims of martial law," he said. "It comes as a repudiation of the decision of the people of the Philippines, who rejected and ousted Marcos on February 25, 1986."
Critics attribute countless human rights violations and corruption to the late leader.
People persecuted under his rule joined students and activists in a naked run around one university campus. The annual event highlights a different cause each time it is held.
Others marched with placards reading "You can't bury the truth."
Seeming to anticipate a strong reaction, Filipino officials kept Marcos' burial a closely-guarded secret until a few hours beforehand.