Dozens of Shi'ite pilgrims killed in Iraq
Comments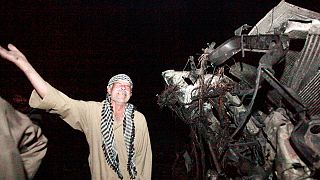 More than 80 people, most of them Shi'ite pilgrims from Iran, have been killed in the Iraqi city of Hilla.
A suicide bomber driving a truck laden with explosives crashed into a petrol station where buses carrying the pilgrims had stopped.
In an online statement the Sunni extremist group Islamic State claimed responsibility for the attack.
The pilgrims, whom the Islamic State regards as apostates, were en route back to Iran from the Iraqi Shi'ite holy city of Kerbala.
They'd been commemorating Arbaeen, the fortieth day of mourning for the killing of Imam Hussein, a grandson of the Prophet Mohammad, in the seventh century.
Islamic State has intensified attacks over the past month in areas out of its control in efforts to weaken a U.S.-backed military offensive to retake Mosul, the last major city under IS control in Iraq.