Bulgarian ex-minister accused of illegal MiG jet repair plan
Comments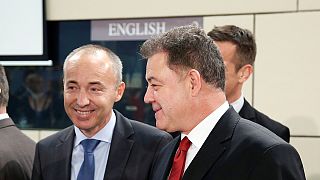 Bulgaria's outgoing defence minister has been charged with failing to honour an agreement with Russia to repair its Soviet-era fighter jets.
Nikolay Nenchev, who denies wrongdoing, opened talks with the country's NATO ally Poland to service the jets despite an existing contract with a Russian company.
Nenchev said he was convinced he had acted in the interests of his country, as the deal with Poland would have saved money. He described as "hilarious" charges that he had caused 3.7 million euros of losses to Russia's Aircraft Corporation, the planes' maker.
He has previously argued that sending the engines of the MiG-29s to Russia would risk them becoming tied up in potential EU sanctions.
The case comes amid signs of revived Russian influence in Bulgaria, whose president-elect favours improved ties with Moscow.
Nenchev's centre-right party resigned from government last week following elections.