Arrests made as Israel fires rage for third consecutive day
Comments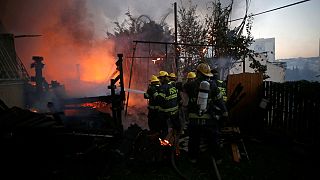 Israel's police chief says arrests have been made in connection with raging forest fires in Haifa and the West Bank.
Tens of thousands of residents have been evacuated and more than a hundred people have suffered injuries since the fires began on Tuesday (November 22).
Press agencies report four Palestinians were detained for questioning.
The police refused to comment on whether or not arsonists had deliberately started the initial blaze which has engulfed Israel's third largest city.
Chief Roni Alsheich said the fires seemed not to have been organised, but if intentional could have been the result of people "taking advantage of the opportunity."
It's an opinion Israeli Prime Minister Benjamin Netanyahu appeared to share.
"According to the weather forecast I'm hearing here, we can say that the conditions of drought and wind have created natural blazes, but there are also some unnatural blazes, so we can't rule out arson," he told reporters.
Russia, Greece, Turkey, Italy, Croatia and Cyprus are all sending planes to assist with dousing the flames.
It's the worst spate of fires in Israel since 2010 when four days of blazes killed 42 people.