'Yes we cran' Obama tells the US in his final Thanksgiving turkey pardon
Comments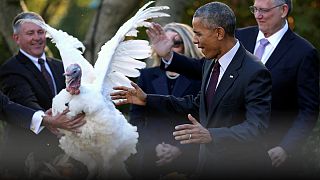 Barack Obama has begun festivities for his final Thanksgiving as the US president with the annual Turkey pardon.
This year, Tater and Tot, both 18 weeks old, were saved from a trip to the slaughterhouse. While only one was designated the official National Thanksgiving Turkey, both will be sent to Virginia Tech research university to live out their lives in peace.
Amid turbulent times in the country, the outgoing president used the occasion to remind the nation of the need to stay united.
"Thanksgiving's also a reminder of the source of our national strength, that out of many we are one, that we are bound not by any one race or religion, but rather by an adherence to a common creed, that all of us are created equal. And, while accepting our differences and building a diverse society has never been easy, it has never been more important."
This year, instead of his daughters Malia and Sasha by his side, Obama invited his two nephews for the annual turkey pardon and the usual 'dad joke'.
"So later today the Obama family will participate in our traditional Thanksgiving service project and when somebody at your table tells you that you've been hogging all the side dishes and you can't have any more, I hope that you respond with the creed that sums up the spirit of the hungry people: 'Yes, we cran.' That was good!"
But the girls weren't about to escape too easily from the tradition, as Obama joked:
"Malia and Sasha, by the way, are thankful that this is my final presidential turkey pardon. What I haven't told them yet is that we are gonna do this every year from now on!"