More than 15,000 dismissals in Turkey's post-coup purge
Comments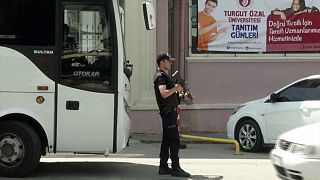 15,000 more civil servants, military officials, police and others have been dismissed in Turkey.
A number of public institutions and media outlets have also been shut down over alleged links to a failed coup in July, according to an official decree.
Nearly 10,000 #dismissed from #Turkish#securityhttps://t.co/zuMJyw2gKOpic.twitter.com/KQaKDy5Ytr

— Yeni Şafak English (@yenisafakEN) November 22, 2016
Dismissed in Tuesday's crackdown:
1,988 armed forces personnel
7,586 police force personnel
403 from the gendarmerie
More than 5,000 from public institutions
The total number dismissed since July's attempted coup is more than 110,000.
Closures
The decree also announced the closing of more than 550 institutions, 18 charities and nine media outlets.