Watch: Robber smashes shopkeeper with bottle in raid in Italy
Comments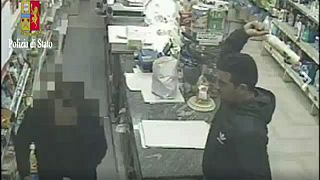 This is the dramatic moment a robber smashed a bottle over the head of a shopkeeper in southern Italy.
The CCTV footage, released by Italian police, shows the attacker suddenly strike his victim as he is being served at a grocery store in Andria, near Bari.
The shopkeeper gets to his feet and tries to prevent his attacker from stealing money from the cash drawer.
Police said they later arrested a man, 31, in connection with the incident, in the city centre.
It is unclear at the stage what was taken and the extent of the injuries to the shopkeeper and his wife.
The incident happened on Saturday evening and the arrest was made the following morning.