Shadow of Trump presidency looms large at APEC summit
Comments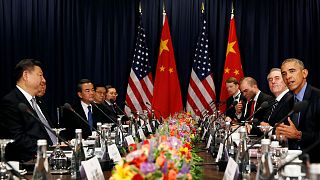 President Obama may be flying the flag for the US at this year's APEC summit but the shadow of Donald Trump is looming large.
All eyes are on China after Trump's surprise election victory dashed hopes of the US-proposed Trans-Pacific Partnership (TPP) trade deal coming to fruition.
Leaders of Asia-Pacific countries are seeking new free-trade options.
Their host in Lima, Peru's President Pedro Pablo Kuczynski, recalled APEC's objectives on Saturday.
"Naturally it is not just trade that matters. It is investment. It is employment. It is labour and labour has to be part of our effort otherwise they will feel left out and they are an essential part of this," he said.
Peru, US Leaders meet in Lima https://t.co/k333KloKma#APEC2016pic.twitter.com/NNvzbW1Efr

— Agencia Andina (@Agencia_Andina) 19 novembre 2016
Obama had championed the TPP as a way to counter China's rise.
But he has now stopped trying to win Congressional approval for the deal signed by 12 economies in the Americas and Asia-Pacific, excluding China. Without US approval the current agreement cannot be implemented.
Trump campaigned against the TPP and the North American Free Trade Agreement (NAFTA) as bad for US jobs.
Now if the new US administration does back away from free trade, Beijing looks set to fill the void.
with Reuters